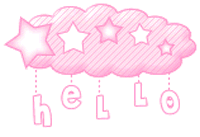 Hello lovelies! How was your weekend?
I just got back from rest day and I hope everyone enjoyed the weekend as much as I did!
Let me tell you, the weather has been quite the sweetheart!
It was cold and cloudy and rainy and stuff, I really missed this kind of bed weather.
As you can see, I've been a little busy crafting.
It was one of those rare occasions when I have absolutely nothing else to do.
So I brought out my craft things (It used to be my favorite hobby when I was 8)
And I just started making things.
With strings, beads, chains and things.
It was just the perfect indoor activity for this rainy weather.
I also have some cute bows and pearls.
And lookie at the by product!!! my creation!!
NOT! I bought that somewhere.
Not my creation, but it sure is cute, ne?
Kitty charms for your celly.
Well, it is ugly. My sister asked me to make her one, and she wanted it dark and girly.
It was for her classmate. Iono, I AM NOT GETTING PAID FOR THIS
So dear sister, no complains please, I am rusty and you are welcome LOL!
By the way, the bum in me was fairly productive as well.
These are the movies I saw with Tough Guy, it took us all day and night!
I really enjoyed Megamind, Tangled, and Arthur most!
So there goes my weekend, I stayed indoors most of the time.
Rolling around, watching movies, finding some stuff to do.
I am sure as heck your activities were hella lot better than mine!
I shall read on now! So, any good films you've seen recently?
Til next post!