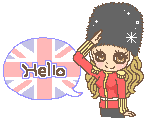 Hi Darlings! Don't you just hate Mondays? I know I do, grr and Tuesdays aren't any better.
Wednesdays, I'm always hopeful on Wednesdays and Thursday?
I just want Thursday to end the very moment I wake up to it.
Oh weekends, there should be more of you guys in a year.
We saw
Salt
the other night and then all of a sudden my
Gloomy
wanted
to become a
Russian spy
, I on the other hand, wanted to become
Angelina Jolie
..
So yeah, we have this mutual understanding to tolerate each others' empty
ambitions.
I had a very busy weekend, I did an errand for my mom. And boy, was it tiring!
She asked me to get several copies of some documents she needed, so I went to the Census.
Too many people! guh, long lines! double guh, but at least the weather was cool, so Yay!
I was with
Tough guy
the whole time so it wasn't that difficult to get through the
ordeal.
(which is anything ran by the government)
To my surprise the people working there are actually
nice
.
(Because they thought I was a foreigner! at first >.>)
One of the guards even complimented my
lashes,
he didn't know what
falsies
were!
So when I told him..well I kind of wish I didn't cause he kind of
freaked out,
a little, I think.
So yeah, note to self:
Accept compliments,
just say
Thank You!
So by the end of the day, our efforts were rewarded greatly and I did what I came to do.
Mission Accomplished
! Everybody happy and tired..But happy nonetheless!
My hair looks so weird, I should be mindful with the high ponytail next time.
And yay for newly adopted
Kuromi
goodness! These were from a close friend of mine.
She has the biggest
Sanrio
collection! She only sent me these cuties cause she had like 3-4 of each kind!
Man, I wish I had plenty of cute things, plenty enough so I can give them away.
Although, I think I will never tire of collecting cuteness, so there's a good chance.
I guess I was doing her a favor since she was running out of space?
Oh dear, You are MOST welcome! send in some toys ANYTIME!
She even baked me some cookies! You know you got yourself a good friend...
The moment they start giving you foodies, meheheheh, I likey!
Speaking of awesome friends, I have this other friend, Abby who's just as amazing!
She made me this ambigram, it says "Bee" which is my nickname (taken from Bianca)
And when you rotate it 180 degrees, you'll get "Dee" which is my Tough Guy's nickname.
She did for free, too.. just cause she's bored. She should take commissions lol!
A couple of weeks ago, she also made me this name plate thingy, she only used MS paint for this.
A product out of her sheer boredom, yes.. some friends I have lol!
I feel so plain and untalented and significantly insignificant when I'm with these people!
How bout you darlings? How are you with your friends?
I bet with all my nonexistent millions which has yet to come..
..That you are one to stand out in your circle of friends, ne?
I hope you tell me about it sometime! it's so much easier to make new friends online!
I hardly make any friends irl, I don't like making friends unless I've known or spoken to them on facebook or blogger, just being cautious I guess heehee!
Til next post darlings!